On November 19, 1997, the married couple Bobby and Kenny McCaughey hit the front pages of all publications.
And this is due to the fact that Kenny gave birth to seven children on the same day, 4 boys and 3 girls.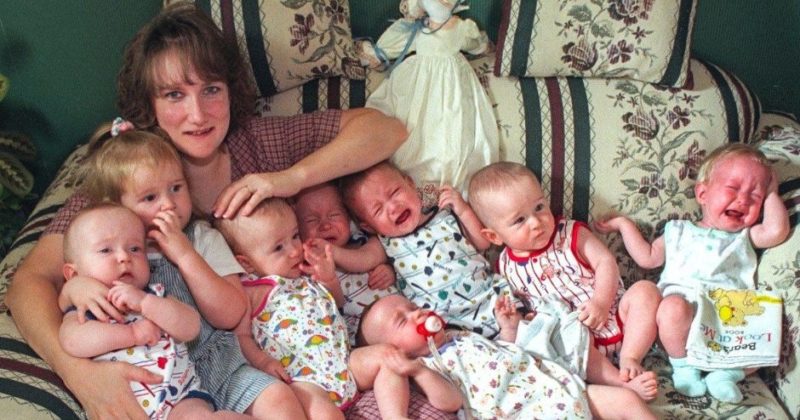 All the newspapers wrote about the medical miracle, because no one had ever done it before. And most importantly, all seven were born healthy.
After the first daughter, Michaela, was born, Kenny could not get pregnant for a long time. It is for this reason that they decided to do IVF.
In medicine, there are cases of double and triple bonuses. But this family was lucky seven times more.
Kenny gave birth prematurely, nine weeks earlier. On average, the weight of each child was one kilogram.
There were also complications, Nathan and Alexis were found to be developmentally delayed. Due to the diagnosis – cerebral palsy, the kids had to undergo several operations.
People from all over the world began to help a large family.
The charitable foundation provided them with housing, in which everyone had their own bedroom. They also received free college education and meals. Even George W. Bush visited them.
And even Oprah Winfrey could not leave the kids without attention.
The McCaughey withdrew from public life when the children were ten years old.
Kenny Jr wants to be a builder. His birth weight was almost 1.5 kg. Now he is attending college in Des Moines and dreams of becoming a skilled construction worker.
"I think that it will only be better for everyone to go different ways, everyone will choose their specialty and occupation according to their interests!", – the young man says.
Alexis Mei will make a great kindergarten teacher.
It was Alexis who had to undergo several operations before she was able to somehow move her legs without the help of strangers.
The girl entered the same college with her brother Kenny, only at a different faculty. She loves children very much, so she decided to become a teacher.
Here is Kelsey Ann – the future pop star!
The baby was born with a weight of less than 1 kg, but she received a magnificent and strong voice.
Mom says that Kelsey began to sing almost from the cradle, then entered the girls' choir at Carlisle School. Now the girl is a student at Hannibal Lagrange University.
Natalie Sue dreams of becoming a teacher.
Natalie grew up as a very smart girl, even got into the list of the best graduates. She, along with her sister, entered the Hannibal-Lagrange University, after which she would become a school teacher.
Nathan Roy is the future IT specialist. Nathan, like his sister, Alexis, was diagnosed with cerebral palsy.
Thanks to the operations performed, he calmly moves without the help of strangers. He did not lag behind the sisters and entered the same university, only at the faculty of computer science.
Brandon James is in the military. Brandon was the only child who chose to go to the army instead of the university. Now he is an infantryman.
Joel Steven wants to be a programmer. Joel Steven is the latest to be born. And his weight was 975 grams. Now the guy is mastering the basics of computer science at the Hannibal-Lagrange University.
Parents say that they cannot get used to the fact that their house, once full of children, is gradually emptying. But they are glad that the children go after their dreams.