At the end of April, sisters Freya and Keira Hill from Northamptonshire, England discovered the loss of a one-year-old kitten named Flea.
The pet was always very curious and reckless, and the girls were afraid that she could get into trouble.
Freya and Kira searched all her favorite places in the house and in the yard, but Flea was nowhere to be found.
After several days of searching, the girls almost resigned themselves to the loss, deciding that the kitten was hit by a car or taken by new owners.
Flea could have been picked up. She walked around the area and approached to talk to strangers – an affectionate, someone might like the cute kitten.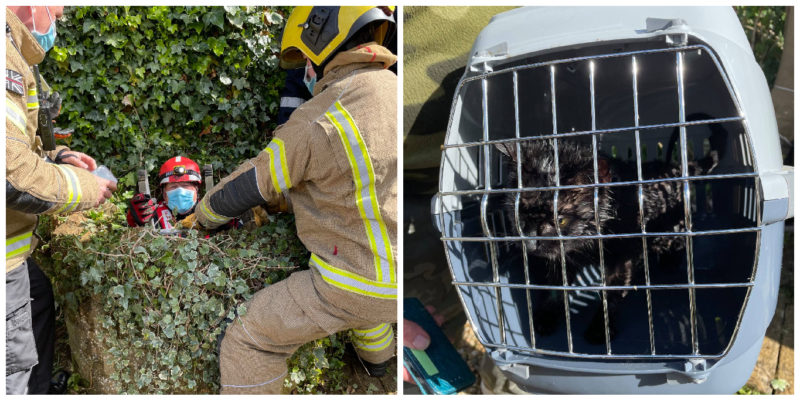 But a week after Flea's disappearance, the unexpected happened – a local dog found the cat.
She caught the scent of the animal and found it… at the bottom of the well. And just a few meters from home!
The dog announced its discovery with a loud bark, which attracted the attention of passers-by.
Flea's family also came to the well – and were happy to find their pet safe and sound.
Despite all the difficulties, the cat was not hurt.
She sat for a week, clinging to a ledge, starving, but drinking water that had collected at the bottom of the well.
To rescue the animal, the help of firefighters was needed. They cut the grate, through which the kitten fell and went down.
The cat was lured out with food, and soon she was in the hands of happy owners.
According to the family, the whole evening their pet was warmed by the radiator. She ate a lot and constantly purred, notifying the owners of how glad she was to return home.
Now the owners intend to monitor Flea even more carefully. "She is clearly trying to use her nine lives," Freya says.