Nature is mysterious and unpredictable. The most terrible events can take place side by side with the most beautiful ones.
And our story today is just about that.
Photographer from New York – 53-year-old Gordon Donovan – is very fond of creating in Africa. This time he went to seek inspiration in the Etosha National Park in Namibia.
The guide accompanying him said that in one of the lion prides the leader had recently changed. The new leader, in a terrible lion tradition, killed all the cubs of the previous main male.
One lioness, having lost her cubs, was so grieved that she decided to adopt a cub.
Never mind that under normal circumstances it would be her dinner.
In short, she adopted none other than an antelope cub.
For more than two hours, Gordon Donovan watched the lioness take care of the baby and could not stop watching them.
She played with him, licked him, and protected from two pregnant lionesses from her own pride.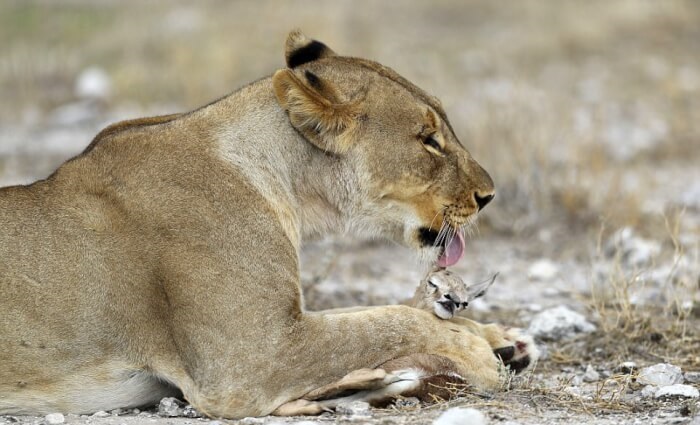 "It was a strange but amazing sight," said the photographer, thanks to whom we can once again be convinced of the boundless power of the maternal instinct.
And yet, no matter how touching these photos would be, two questions remain open: where did the cub come from and what is its future fate.