One day, a resident of Los Angeles, Vincent, was sitting at home doing some of his own business, and suddenly he saw a cat that was completely unfamiliar to him.
The cat entered his house through the back door, which had a dog door.
"Probably she has the wrong house," thought Vincent, when the white-striped cat, having looked around a bit, left his house through the same door.
But it was not there.
Soon the same cat returned to his house, and she was not alone, she was dragging a small kitten in her teeth.
Having brought the kitten into the house, the cat, which was later given the name Tala, began to look for a place where it could be put.
Vincent did not get confused and offered the cat a large cardboard box, where he put a warm blanket.
"Well, a cat and one of her kittens, it's okay," thought Vincent.
After lying down for a while with the kitten inside the box, the cat Tala came out and again went somewhere through the dog door.
Vincent was worried, what if the cat decided to throw a kitten at him, and she would not return?
The cat returned with another kitten, this time a black one.
And then she ran outside three more times and brought Vincent three more kittens.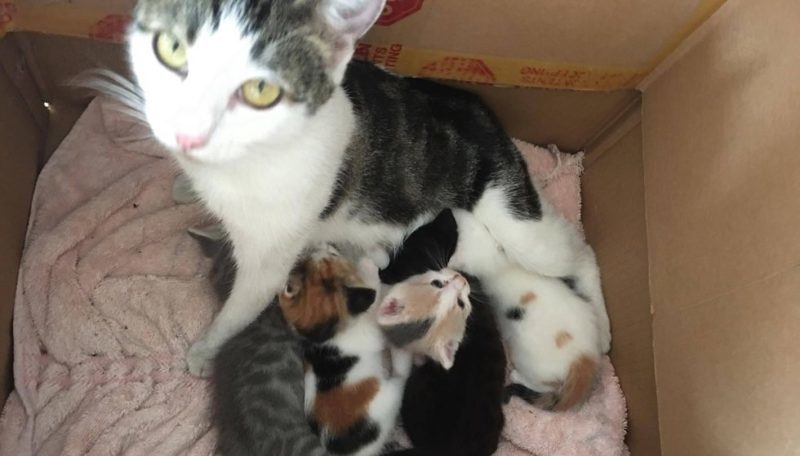 That's how suddenly Vincent became the owner of a cat and five kittens.
He put bowls for the cat with food and water, and the cat happily lay in the box and licked her offspring.
But Vincent understood that although he was flattered that a stray cat had entrusted him with her cubs, he could not pull so many animals.
He posted on Facebook about the unexpected addition to his house, and Jacqueline Santiago from the Friends for Life Rescue Network agreed to adopt the cat and kittens.
Soon, the cat Tala and her kittens were in a temporary foster family with Caitlin and Sam.
The kittens grew up in warmth and care and next to their loving mother, who, with her sixth sense, sensed in Vincent a kind person who could help her and her kittens.
When the kittens were two or three months old, they all found permanent families.