On the night of May 1-2, perhaps the largest event in the fashion world, The Met Costume Institute Gala, took place in New York.
This year, it was decided to dedicate the event to Karl Lagerfeld.
Many celebrities have decided that "Karl Lagerfeld: A Line of Beauty" is a reason to choose exclusively white production dresses. However, there were those who decided to bet on other brands.
Among them, fortunately for us, was Jennifer Lopez.
53-year-old celebrity appeared in front of photographers in a luxurious maxi from Ralph Lauren.
The top of the dress looked like a revealing top that turned into a forked black train. It was complemented by a soft pink satin hem.
Jennifer posed in black sandals with a breathtaking heel and platform. A black headdress with a veil also attracted attention.
The stylists tied the artist's hair into a sleek hairstyle, and added black opera gloves – this is perhaps the main trend of 2023 among accessories.
Fans naturally had a hard time looking away from the celebrity's steel abs and her stunningly slim figure.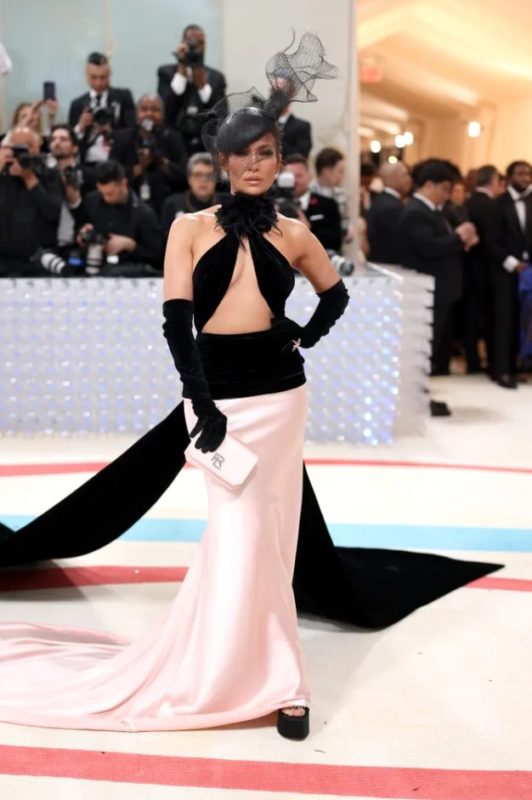 However, many Internet users began to wonder why Lopez did not take Ben Affleck with her.
Fans believe this is due to the fact that her husband recently revealed her beauty secret, telling that the singer is not holding back at all regarding food.
According to the actor, the actress eats literally whatever she wants. Although other Internet users insist that Jennifer just took pity on Ben, who clearly does not like such lavish events.